Adnan Mehmeti - Gjekë Marinaj, më shumë se poet
Adriatic Press, New York
Books translated by Marinaj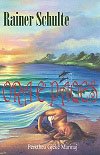 Rainer Schulte - Ora e paqes
M. P, Dallas, Frankfurt, Tiranë, 2005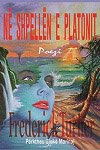 Frederick Turner - Në shpellën e Platonit
M. P, Dallas, Frankfurt, Tiranë, 2006
Poezia amerikane
QNK, Tiranë, 2006
About the authors:
GJEKË MARINAJ was born in 1965 in the Malësi e Madhe district of Northern Albania. One of Marinaj's early poems, Horses, published in 1990 in Drita, the country's foremost literary publication, was a thinly veiled satire on the oppressive totalitarian government. The response to it was overwhelming. Protestors would later chant the poem through megaphones during the anti-government demonstrations that helped to spark the anti-communist revolution in Albania. Marinaj was forced to flee the Albanian secret police, hiking all night through the mountains. Later he gained permanent residency in the United States. He moved to Texas, where he gained bachelor's and master's degrees in literature, and is completing his Ph.D. at the University of Texas at Dallas. Marinaj has edited more than a dozen books, translated four books of poetry, and published several collections of his own poetry and criticism. He received The Golden Pen from the Society of Albanian-American Writers, the Pjetër Arbnori Prize, and the Albanian BookerMan Prize. Speaking of his poetry, Nobel Prize candidate in literature Ismail Kadare asserted: "Gjekë Marinaj is one of the most distinguished Albanian poets of our time." Read more...
FREDERICK TURNER
, Founders Professor of Arts and Humanities at the University of Texas at Dallas, is a poet, cultural critic, playwright, philosopher of science, aesthetician, essayist, and translator. Born in England in 1943 to the anthropologists Victor W. and Edith L. B. Turner, he grew up in Central Africa and was educated at Oxford University. The former editor of The Kenyon Review has authored 28 books, including The Culture of Hope, Genesis, Hadean Eclogues, Shakespeare's Twenty-First Century Economics, Paradise, and Natural Religion. He is a winner of the Levinson Poetry Prize (awarded by Poetry Magazine), the Milan Fust Prize (Hungary's highest literary honor), the PEN Dallas Chapter Golden Pen Award, the Missouri Review essay prize, the David Robert Poetry Prize, the Gjenima Prize, and other literary, artistic and academic honors. He has participated in literary and TV projects that have won a Benjamin Franklin Book Award and an Emmy. He is a fellow of the Texas Institute of Letters, and has been nominated internationally several times for the Nobel Prize in Literature.
Read more...
A unique event in publishing
:
Now available from
Mundus Artium Press
Center for Translation Studies
The University of Texas at Dallas
800 West Campbell Road, JO 51
Richardson, TX 75080-3021
USA
Price $24.95, plus $5 shipping and handling
Check or money order only
Available soon in bookstores, online, and real-world.